Did you know that signage and banners are one of the most effective methods for marketers to promote their business? Not only does good signage attract customers, but it can be a great way to establish a presence in your local area. Additionally, they act as visual reminders of what you have to offer; even when other forms of advertising may no longer grab potential customer's attention. 
Whether it is interior signage or outdoor signs strategically placed around town – investing in them could boost exposure giving you an edge over competitors. In this blog post, we will take a look at why signs and banners are important, the kinds available on the market today plus creative ideas for using them effectively!
Understand the Signage and Banners
Signage and banners play a crucial role in a business by conveying important information to potential customers. A well-designed sign or banner can generate more foot traffic, increase brand awareness and help customers locate your business with ease. Whether you want to promote an event, advertise a sale, or simply showcase your brand, signage, and banners are excellent marketing tools that can help you reach your target audience. 
Moreover, they are cost-effective, versatile, and customizable, making them ideal for businesses of all sizes and industries. So, if you want to make a lasting impression on your customers and boost your sales, investing in high-quality signage and banners is a no-brainer.
Identify the Different Types of Signage Options
Signage and banners offer great advertising opportunities for your business. There are a variety of different types of signage and banner options to choose from, depending on your needs and budget. Vinyl banners are a popular choice due to their cost-effectiveness and versatility, while mesh banners are perfect for outdoor use thanks to their small perforations, allowing wind to pass through. 
For more permanent signage options, aluminum and dibond signs are increasingly popular and offer a durable and sleek finish. Alternatively, foam board signs are a lightweight and cheaper option that can easily be mounted on any wall. No matter what type of signage or banner you choose, make sure your message is clear, concise, and eye-catching to make the most of your advertising opportunities.
Impact of Effective Signage on Local Customers
Effective signage is a key factor when it comes to capturing the attention of local customers. With so many businesses competing for attention, it's vital to make a strong first impression. Signage is often the first interaction that a potential customer has with a business and it needs to be impactful enough to make them want to learn more. 
Good signage attracts potential customers, signaling that your business is professional, and organized, and takes pride in its appearance. It can also help to establish your brand, making it more memorable in the minds of customers. In short, effective signage is a cost-effective marketing tool that can have a significant impact on attracting and retaining customers.
Best Practices for the Setup and Maintenance
Signs and banners are crucial elements of advertising and marketing. They grab the attention of potential customers, communicate important messages, and make a lasting impression. But did you know that properly setting up and maintaining signs and banners is just as important as their design? 
To ensure maximum visibility and longevity, there are a few best practices to keep in mind. These include selecting the right materials, locating signs and banners in high-traffic areas, regularly inspecting them for damage or wear, and storing them properly when not in use. By following these guidelines, you can make sure your signs and banners effectively represent your brand and message for years to come.
Utilize Innovative Tools such as Social Media
It's important to stay ahead of the curve and utilize innovative tools to promote your business effectively. Social media has become an essential part of any successful marketing plan, and it's no different when it comes to promoting your business. Combining eye-catching graphics with a targeted social media campaign is a powerful way to expand your market reach and engage with potential customers. 
Platforms such as Facebook, Instagram, and Twitter allow you to showcase your products and share your story with a broad audience quickly. Don't miss out on the opportunity to take your advertising to the next level by integrating social media into your strategy!
Leverage Strategic Partnerships for Maximum Results
One approach that has shown great success is leveraging strategic partnerships to maximize results with signs and banners. By seeking out complementary businesses or organizations, you can create mutually beneficial relationships that lead to increased exposure and customer engagement. For example, a real estate agency could partner with a home décor store to cross-promote their businesses with signage in each other's storefronts. 
This not only expands your audience reach but also builds a sense of community and trust among customers. With the right partnerships in place, your signs and banners can become powerful tools for driving success and growth.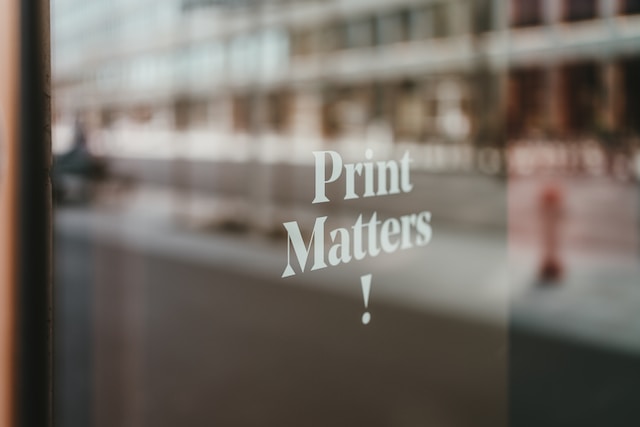 Measure and Track the ROI (Return on Investment)
Tracking the effectiveness of your signage and banner campaigns is crucial for maximizing your business's marketing efforts. By implementing strategies to measure the ROI, you can gain valuable insights into the success and impact of your advertising initiatives. Consider using analytics tools, such as foot traffic counters or unique QR codes, to monitor customer engagement and conversions generated through your signage and banners.
Additionally, conduct surveys or customer feedback sessions to understand how your signage influenced their decision-making process. By analyzing the data collected, you can identify patterns, assess which signage strategies are most effective, and make informed decisions for future campaigns. Regularly evaluating and adjusting your signage and banner strategies based on ROI measurements will help you optimize your marketing budget and ensure the highest possible returns on your investments.
Signage and banners are a great way to gain visibility and communicate your brand. They not only help you attract attention, but they're also an effective way to make customers aware of important information about your services or products. By taking the time to understand the different types of signage available, adequately setting up banners for maximum exposure, and creating strong partnerships with other businesses, you can very quickly establish yourself as an important part of any community. 
Overall, the importance of having good signage and banners for your business can't be stressed enough. Make sure that you do whatever is necessary to create effective signs and banners that will draw in potential customers. Taking the right steps now can help make a positive impact on your business now and in the future.